diondo d5
Multifunctional & Freely Configurable CT System
The multifunctional computed tomography system diondo d5 is designed for all customers, who do not wish to compromise in terms of performance, size and equipment. The wide range of high-performance x-ray sources and high-resolution detectors combined with an adaptable precision manipulator with up to 9 axes constitutes an innovative leap in terms of flexibility and performance.
A Multitude of Combinations


to suit your specific testing requirements with up to two tubes & two detector variants
Innovative Software Package


for optional test methods, e.g. Helix CT, diScatter, diPlanar
Coordinate Measuring Technology


Reproducible 3D measurement technology for highest demands in accordance with VDI/VDE 2630-1.3
Granite Manipulator


with up to 9 motorized axes for maximum flexibility
in situ Enhancements


individual solutions for scientific analyses under test conditions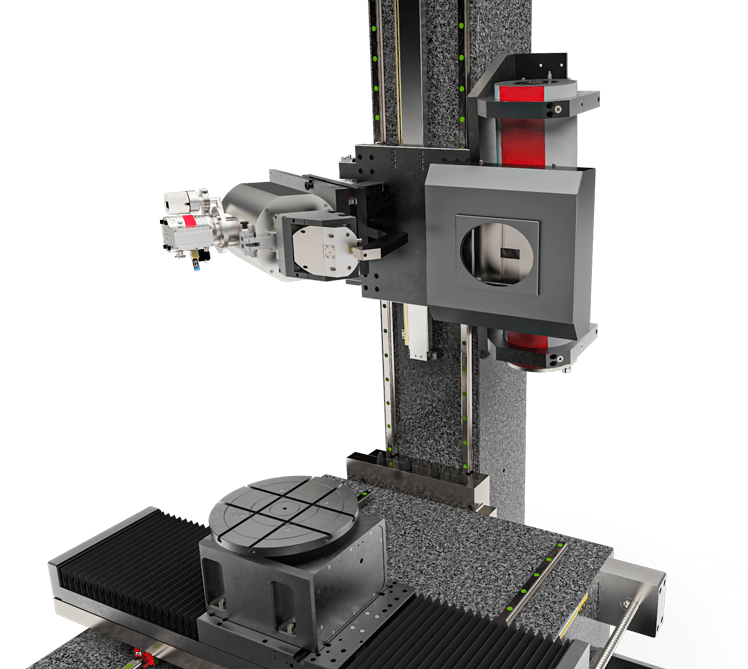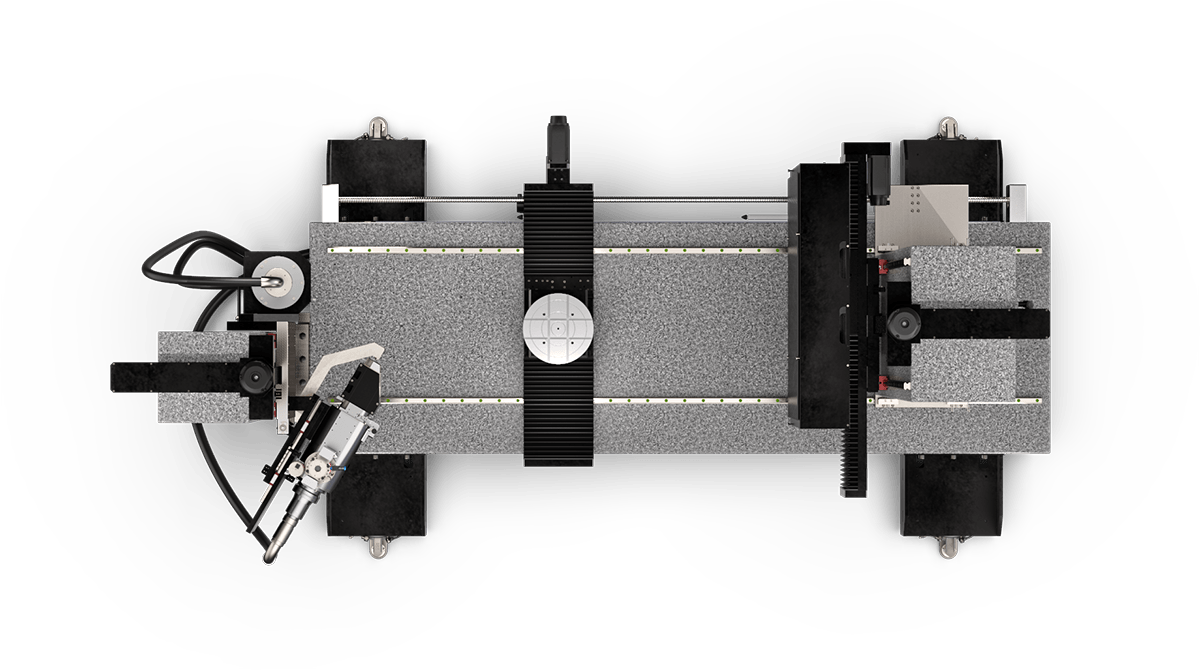 Mini Focus Tube
High performance x-ray systems of up to 600 kV allow shorter scan times with the same test security.
Manipulator
The Granite manipulator guarantees the highest levels of inherent stability, temperature stability and precise positioning.
Line Detector & Flat Panel Detector
Tailored precisely to your specific applications. Benefit from the advantages of fan beam and cone beam CT to optimize your test processes.
Micro Focus- & Nano Focus Tubes
High-resolution configurations of tubes up to a maximum of 300kV guarantee a very high resolution and short measurement times.
Scan Volume
Everything is possible from complex measurements of tiny components up to classic testing of voluminous objects.
Scalable & Future-Proof
Choose between up to nine axis and scale them according to your needs and preferences. Each system can be expanded with function modules or retrofitted anytime.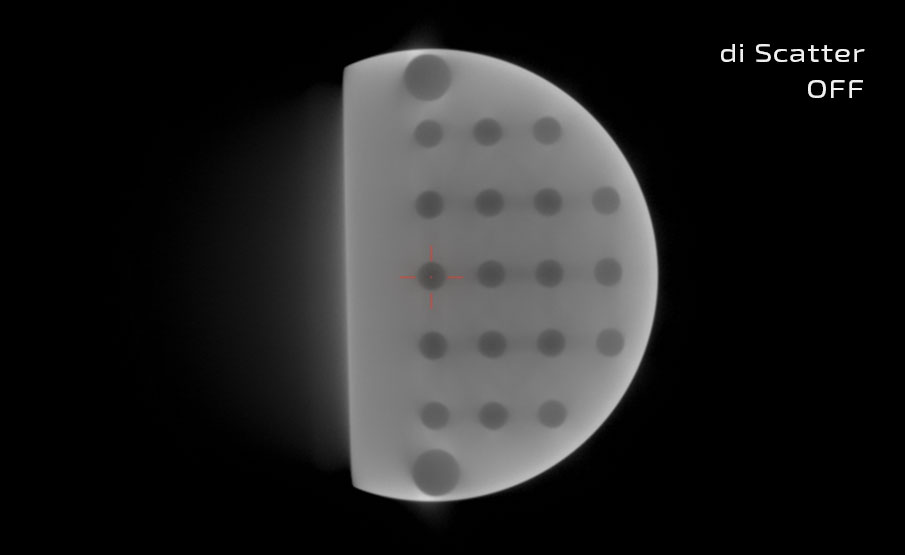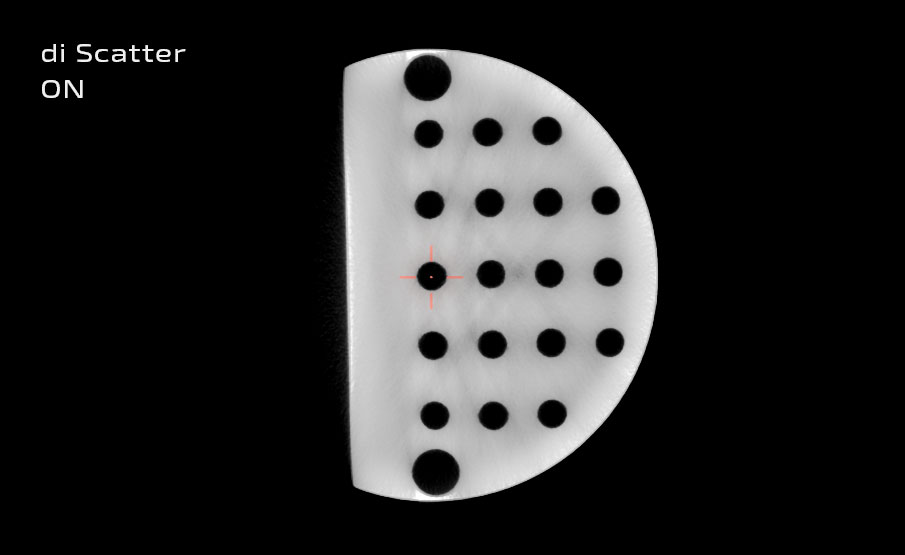 di Scatter
Top level automated scattered
radiation correction
Especially in CT systems in the area of >300 kV scattered radiation causes a significant impairment of the image quality. In the case of line detectors, this effect is avoided by a strong pre-collimation. Yet this is at the expense of measurement time, since only a small layer of the test object can be tomographed during one revolution of the object. In terms of measuring time, flat panel detectors are clearly superior to due to their large surface. Because of the lack of collimation the scatter has its unrestricted impact and complicates or even prevents a reliable detection of defects.

diScatter is capable of compensating this impairment almost completely. After carrying out a fully automatic calibration, entire measurement series of structurally identical and similar test objects can be tomographed in high image quality and in very short time.
in situ Computed Tomography
Dimensional Measurement & Material Testing
Under Specific Test Conditions
The diondo5 system can be equipped with additional functional modules, e.g. in order to apply close-to-reality conditions such as mechanical, thermal or chemical stress onto the sample - and to observe the impact in the CT. Among these are tensile and pressure testing machines, multiaxial tire constraining units, climate chambers, etc.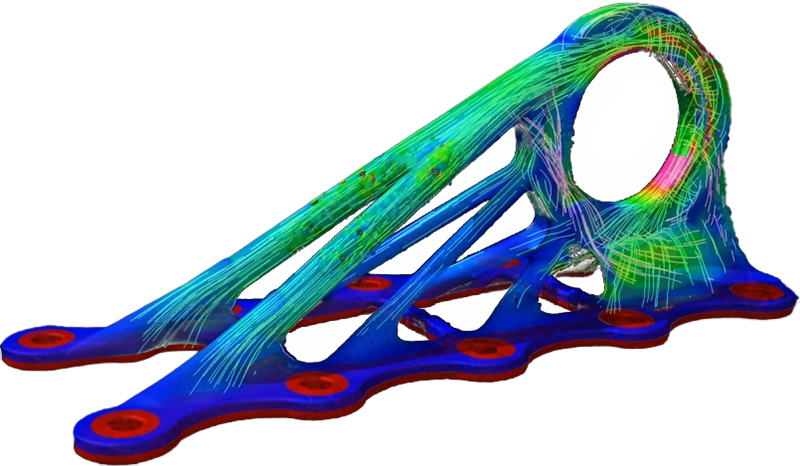 Applications
Nothing remains hidden for these test methods
The range of applications includes everything from complex measurements of tiny components up to classical non-destructive testing of voluminous objects. The diondo d5 is used for measuring and analyzing very different test parts and materials such as:
Cylinder heads, gearboxes
Cast parts made from steel, aluminum

Additively manufactured parts

Injection-molded plastic parts
Geological samples
Mechatronic components
Fiber composites

Metal alloy components
and much more.
Do you want to learn more about our application possibilities? Are you interested in a test scan?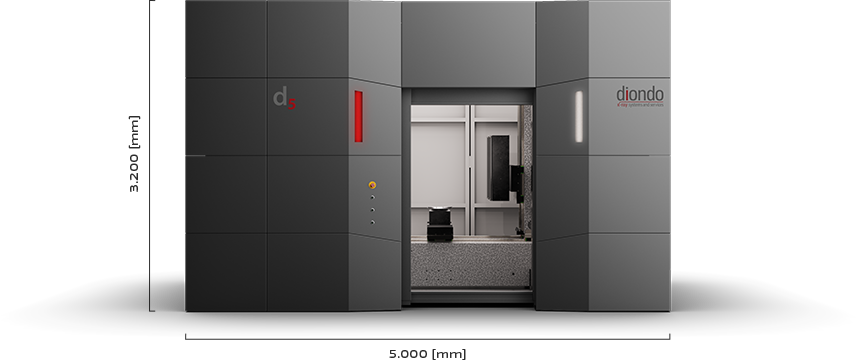 Micro Focus Tube

240 / 300 [kV]

Mini Focus Tube

450 / 600 [kV]

Detector

Flat Panel Detector

3.000 x 3.000 px, 139 [µm]

Line Detector

4.100 px, 200 [µm]

Focus-Detector-Distance, Micro Focus Tube

500-1950 [mm]

-

Focus-Detector-Distance, Mini Focus Tube

850-2400 [mm]

800-2100 [mm]

Scan Volume

Ø 350 x 320 H [mm]

Ø 500 x 1300 H [mm]

Scan Volume, maximum

Ø 700 x 1300 H [mm]

Ø 850 x 1300 H [mm]

Sample Weight

100 [kg]

System Dimensions

L 5.000 x B 2.900 x H 3.200 [mm]

System Weight

40 [t]

diControl Features

DR-Function, di Scatter, Scan Enhancement, Multiline CT, Daily Check, Health Monitor, Helix CT, Batch Mode, Offset CT, Limited Angle CT, di Planar

Radiation Protection

Steel-Lead-Cabinet / Radiation-Shielded Area [Concrete]

Manipulation

granite based, 7 / 8 axes,
Data in accordance with default configuration.
Customized adjustements are available on request.